ZOL HONEYCOMB 800GRAM
SIZE: 800 GRAM /BOX
Sabalan Goods ZOL HONEYCOMB is from nectar of diverse species of Eryngo. More than 11 species of Eryngo are grown in mountainous areas and most of these species are highly attractive to bees for their nectar.
Sabalan Goods ZOL HONEYCOMB is one of the tastiest and colorful kinds of honey produced in the heights of the mountainous regions of Iran.
BENEFITS: ZOL HONEYCOMB is high in phenolic and flavonoid compounds that bear such therapeutic effects as being diuretic, alleviating, sexual enhancive, sedative, beneficial to diabetic and liver disease.
ZOL HONEYCOMB is valuable due to the lack of such chemicals as pesticides and fertilizer.
Description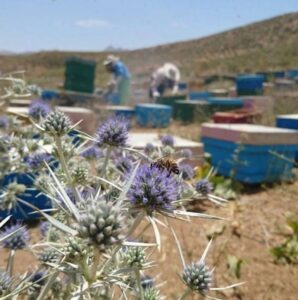 Additional information
| | |
| --- | --- |
| Weight | 0.8 kg |
| Dimensions | 21 × 21 × 7 cm |